Health
25 Delicious Apple Recipes That Are Perfect for Fall
Fall is finally here, and after a long, scorching summer, it's time to settle into chillier weather with some blankets, spooky movies, and your favorite fall treats. Pumpkin anything is a classic autumn staple, but right up there with pumpkins are apples, which are in season and ready for picking around this time of year—making them the perfect fall fruit to enjoy. And if you want creative ways to enjoy this juicy fruit, you can find plenty of apple recipes like cakes, donuts, pies, sandwiches, salads, and more.
Along with being a key ingredient in fall cooking, apples also provide plenty of health benefits, too. In one regular large apple, you get almost six grams of fiber, as well as plenty of vitamin C and antioxidants like polyphenols, which are linked to lowering inflammation and the risk of certain diseases.
Whether you're looking for a recipe for your next dinner party, movie night, or Halloween festivity, or you simply want to cook yourself a fall-inspired meal, here are 25 delicious apple recipes to try. Read on, and for more easy and healthy recipes, check out 20 Healthy Breakfasts to Stay Full & Energized All Day.
Not only do the oats and almonds give this dish a shot of fiber, healthy fat, and antioxidants you wouldn't find in a standard flour-based crumble, but the crunchy texture of the topping also makes for a more rewarding contrast to the soft-cooked apples.
Get our recipe for an Apple Crumble.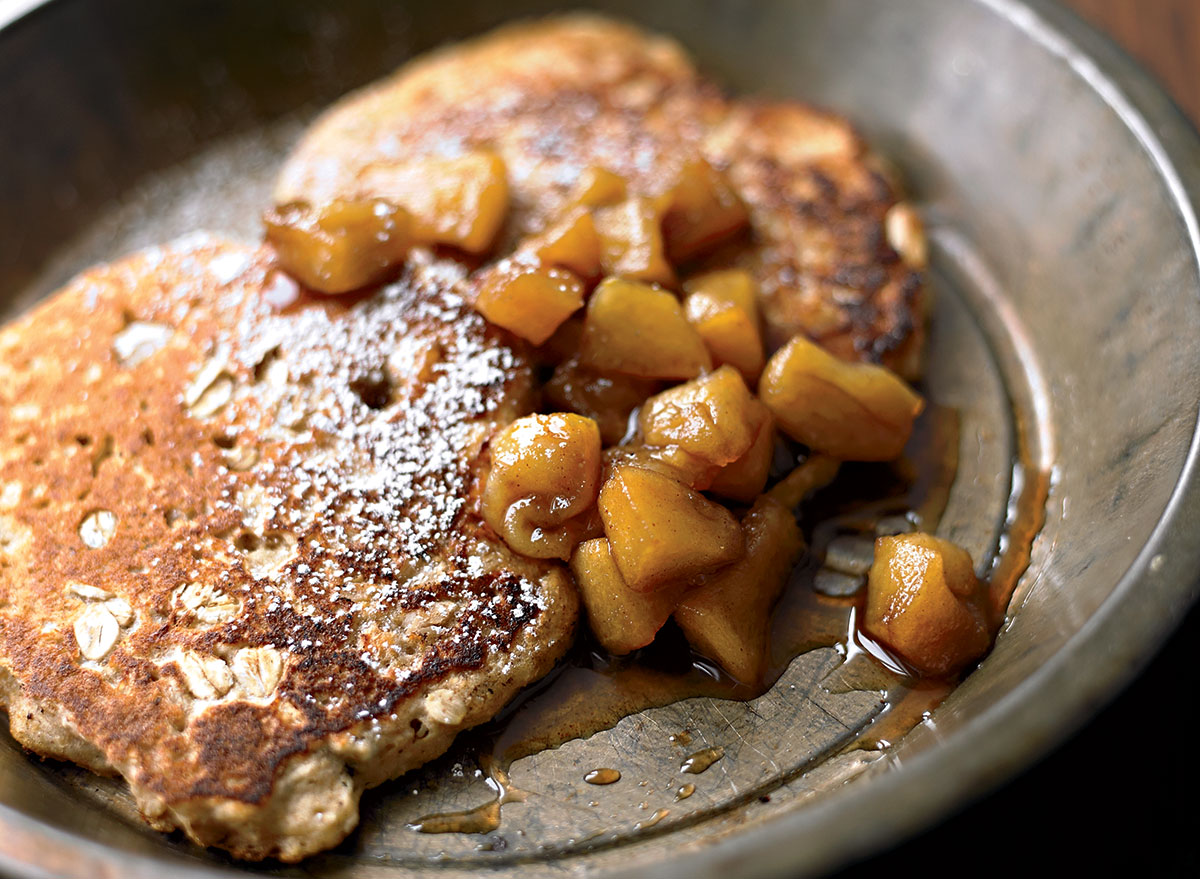 Oats and wheat flour give these pancakes a fiber and protein boost, helping to stabilize your blood sugar levels as your body absorbs the rush of carbohydrates that comes with a stack of flapjacks.
Get our recipe for Oatmeal Pancakes with Cinnamon Apples.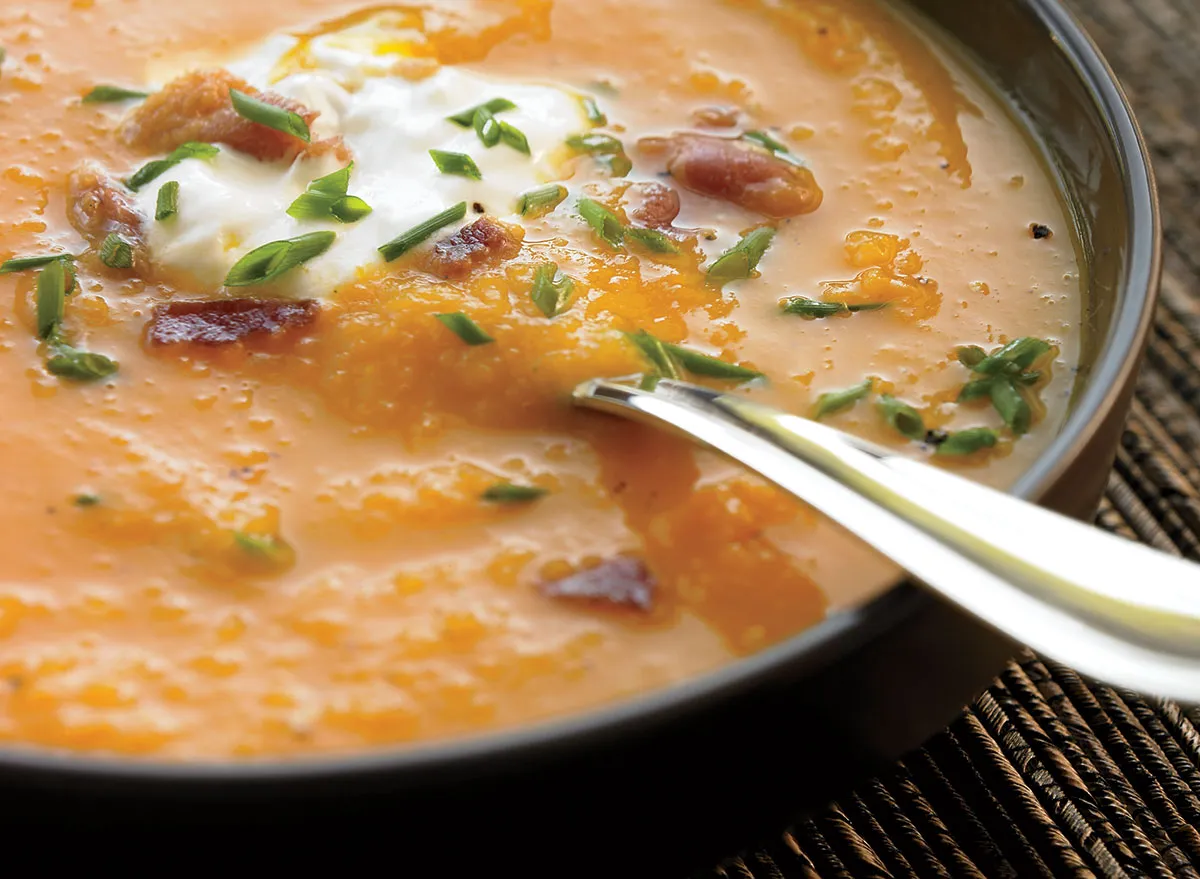 Butternut squash soup is another classic fall food, but you might be surprised to find it on a list of apple recipes. Our secret is including a peeled and chopped green apple in the recipe to make the squash sing.
Get our recipe for Butternut Squash Soup.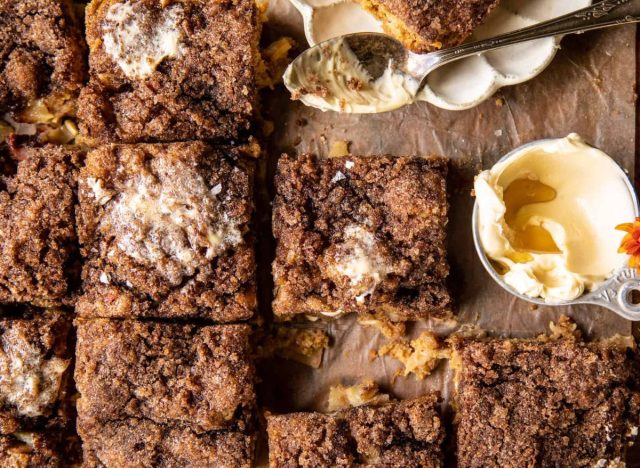 For a decadent apple recipe that is guaranteed to please a crowd at any autumn gathering, try making this Cinnamon Sugar Apple Cake. It's warm, gooey, and cozy, and it only takes an hour total to prepare and bake!
Get the recipe from Half-Baked Harvest.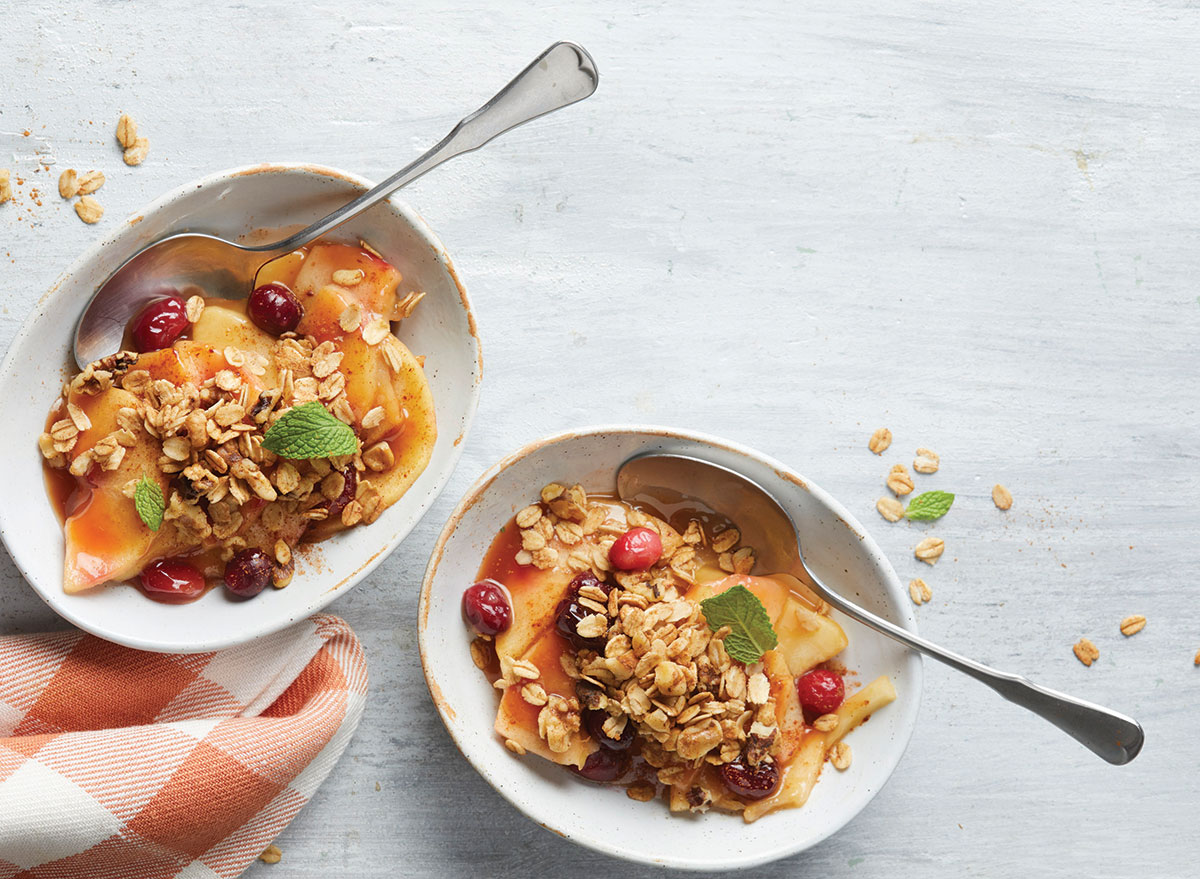 Who wouldn't want more home-cooked desserts in their lives? We think this Apple-Cranberry Crisp recipe fits the bill for one of the easiest healthy apple recipes you'll love.
Get our recipe for Apple-Cranberry Crisp.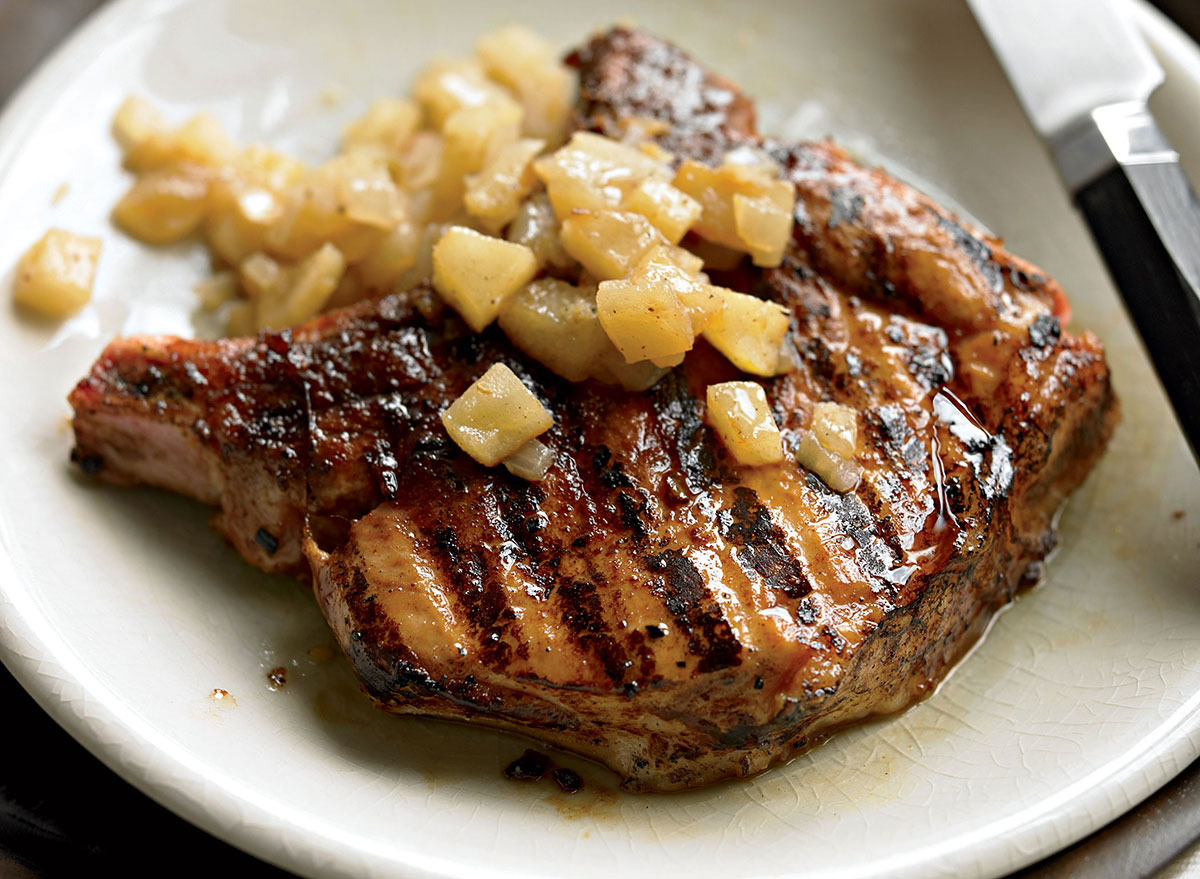 These Teriyaki Pork Chops are easy enough to throw together on any given busy Tuesday night, but they're seemingly fancy enough to serve to dinner guests on a special Saturday.
Get our recipe for Teriyaki Pork Chops with Sautéed Apples.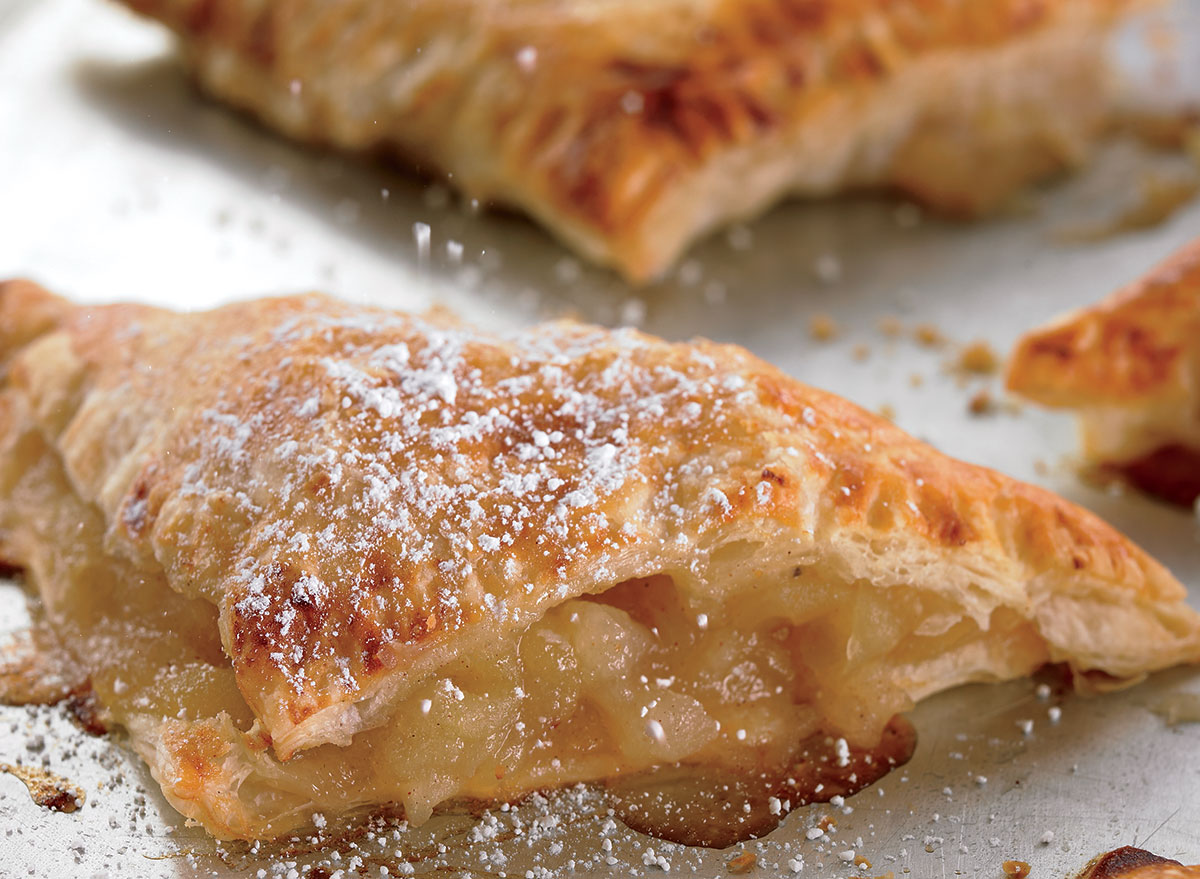 To ditch the classic apple pie over caloric concerns would be downright wrong, so instead we solved apple pie's biggest nutritional setback—serving size—by wrapping up neat little packets of sweetened, spiced apple chunks inside flaky puff pastry.
Get our recipe for Apple Turnovers.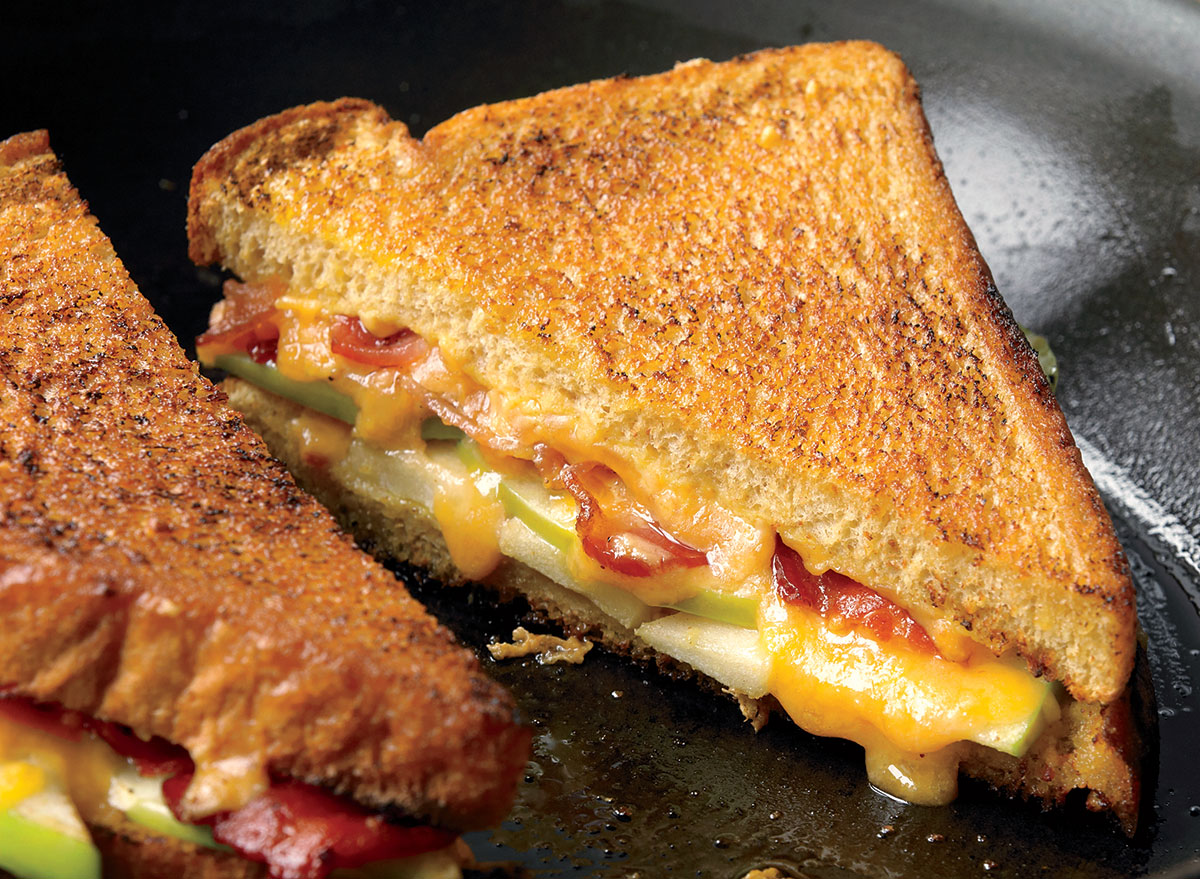 The curious combination of sweet apples, crispy smoked bacon, and sharp cheddar cheese in this sandwich recipe isn't just delicious. It also contains less than half the calories of most of the other grilled cheese sandwiches out there.
Get our recipe for Apple and Bacon Infused Grilled Cheese Sandwich.
Here, we replace the second crust with a crunchy topping made of oats, chopped almonds, and brown sugar, providing a perfect textural counterpoint to the soft, baked apples while actually bolstering the overall nutrition of the dessert. Now you can keep your calories low and eat your pie, too!
Get our recipe for Apple Pie.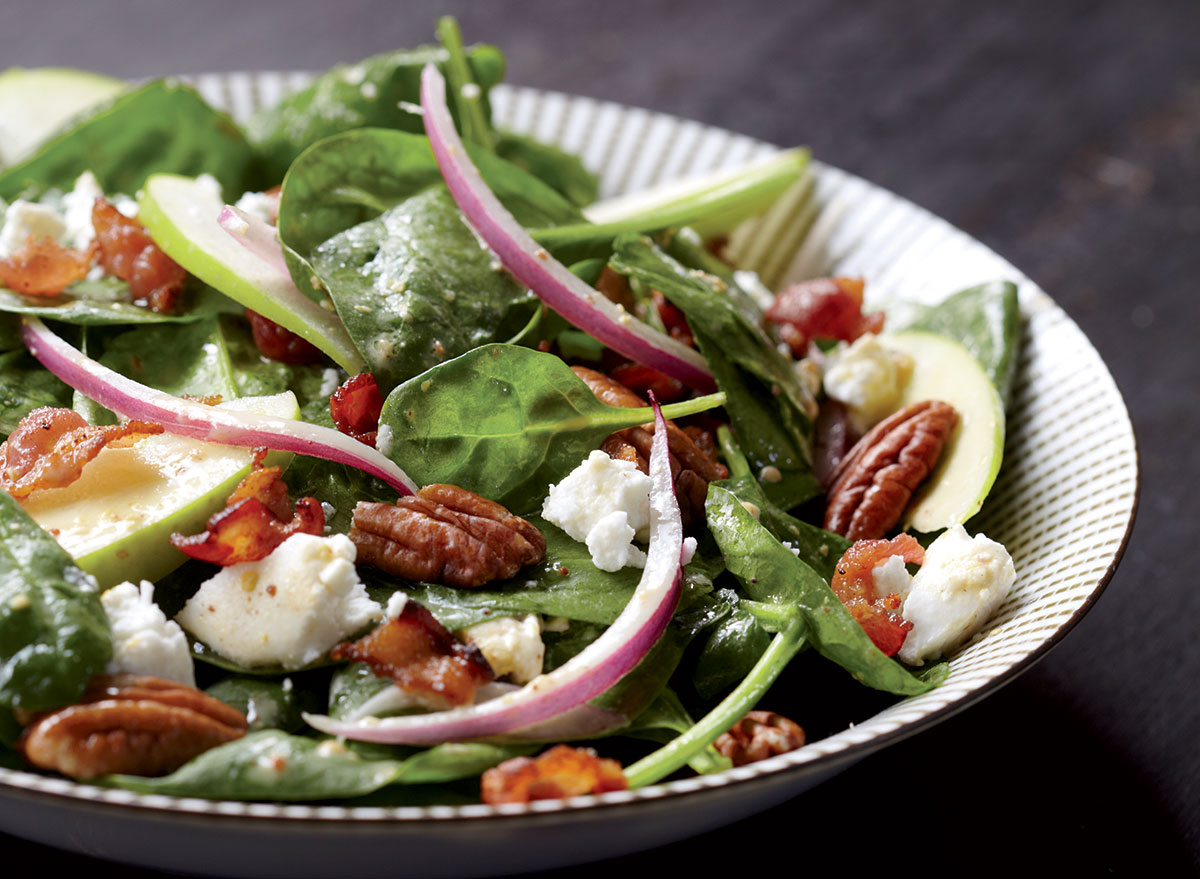 A great salad should be many things: sweet, salty, crunchy, and tender. In short: a full exploration of taste and texture, but not at the cost of a whole meal's worth of calories. With the addition of caramelized apples, toasted pecans, and creamy goat cheese, this retro spinach salad finally achieves perfect harmony in the 21st century with nearly half of the caloric intake.
Get our recipe for Spinach Salad Topped With Goat Cheese, Apples, and a Warm Bacon Dressing.
Apples and cheese are a classic pairing, and this toast is the best of both worlds. We added a little syrup and candied walnuts to make the flavors really sing.
Get our recipe for Brie, Apple, Candied Walnuts, and Maple Syrup Toast.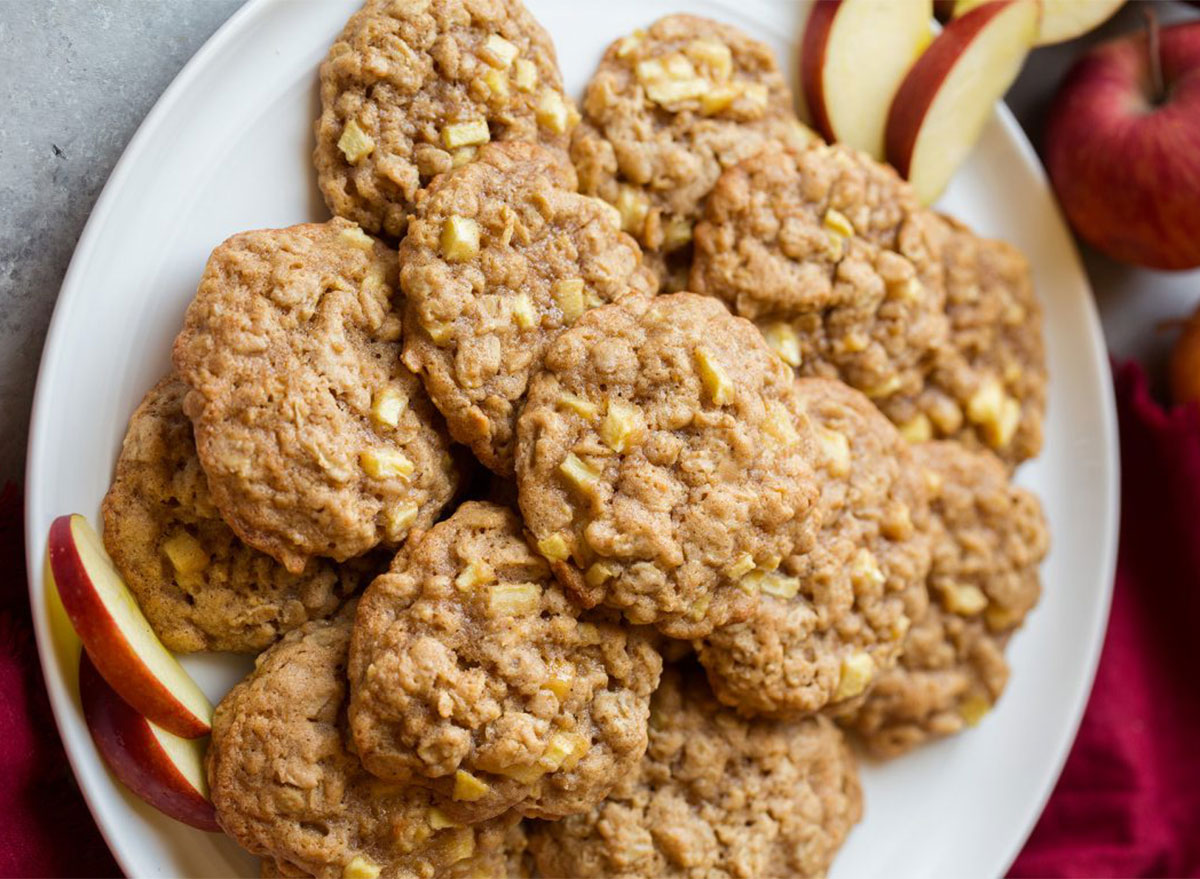 Move over, oatmeal raisin. These apple oatmeal cookies are the new sheriff in town.
Get the recipe from Cooking Classy.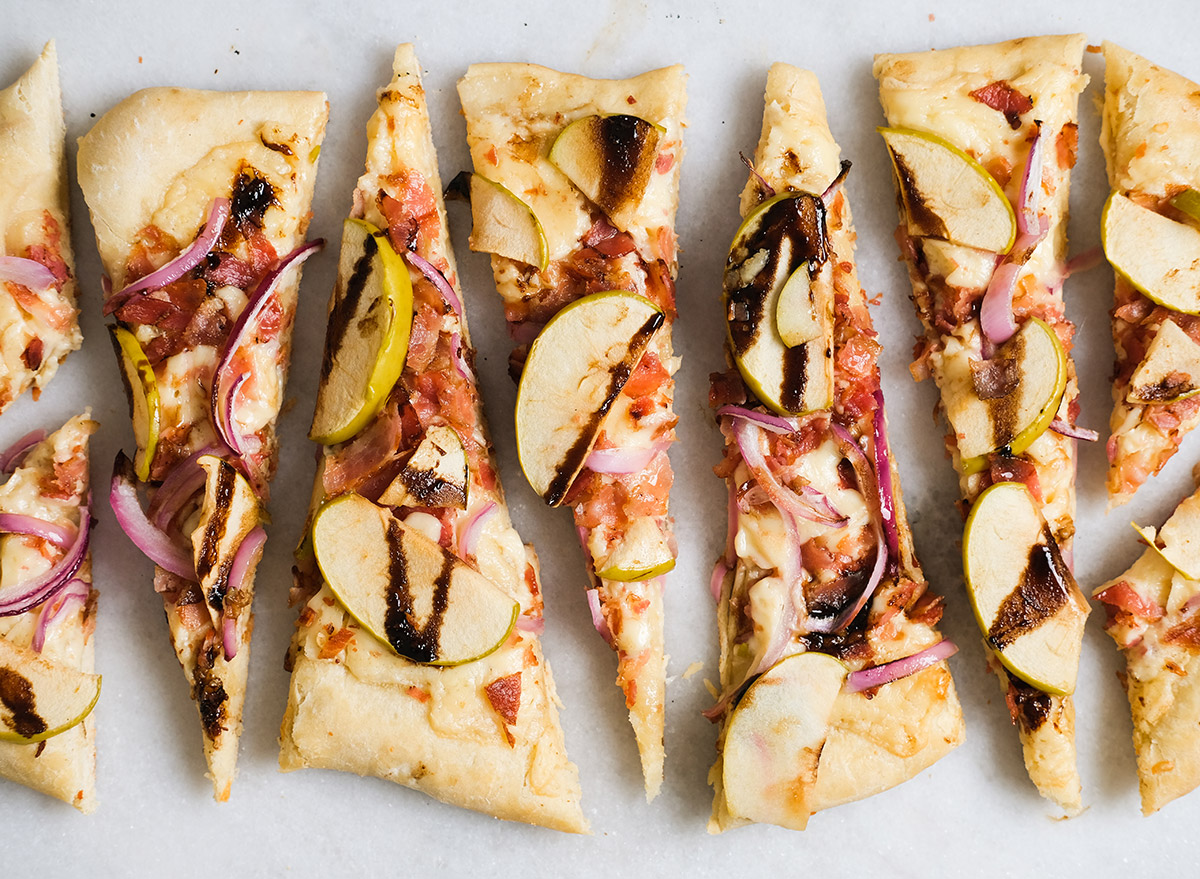 Topped with, you guessed it, cheese and apples, this flatbread is the perfect alternative to boring old pizza.
Get our recipe for an Apple Balsamic Flatbread.
In our recipe, we turn to the complex combination of sausage, tart apples, and fresh sage, which effortlessly converts a normal stuffing into something extraordinary. Alternatively, this recipe works equally well with garlic-rosemary roast beef, bourbon-glazed ham, or a roast chicken or giant Thanksgiving turkey.
Get our recipe for Apple-Sausage Stuffing.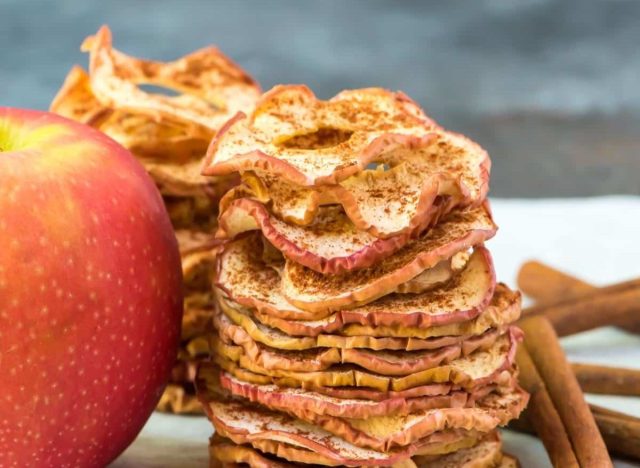 One of the healthier apple recipes on our list is this recipe for simple Apple Chips from Well Plated By Erin. The process is simple and you only need two ingredients, apples and cinnamon, but you do need to make sure you have a few hours to spare while they bake in the oven.
Get the recipe from Well Plated By Erin.
How delicious does this Maple-Cashew-Apple Toast recipe look? If you have a sweet tooth that just won't quit, this may be the sweet—yet healthy—alternative to a sugar-filled breakfast. Forget about French toast. This healthier toast recipe gets its sweet flavor from all-natural sources, namely maple syrup and apples.
Get our recipe for Maple-Cashew-Apple Toast.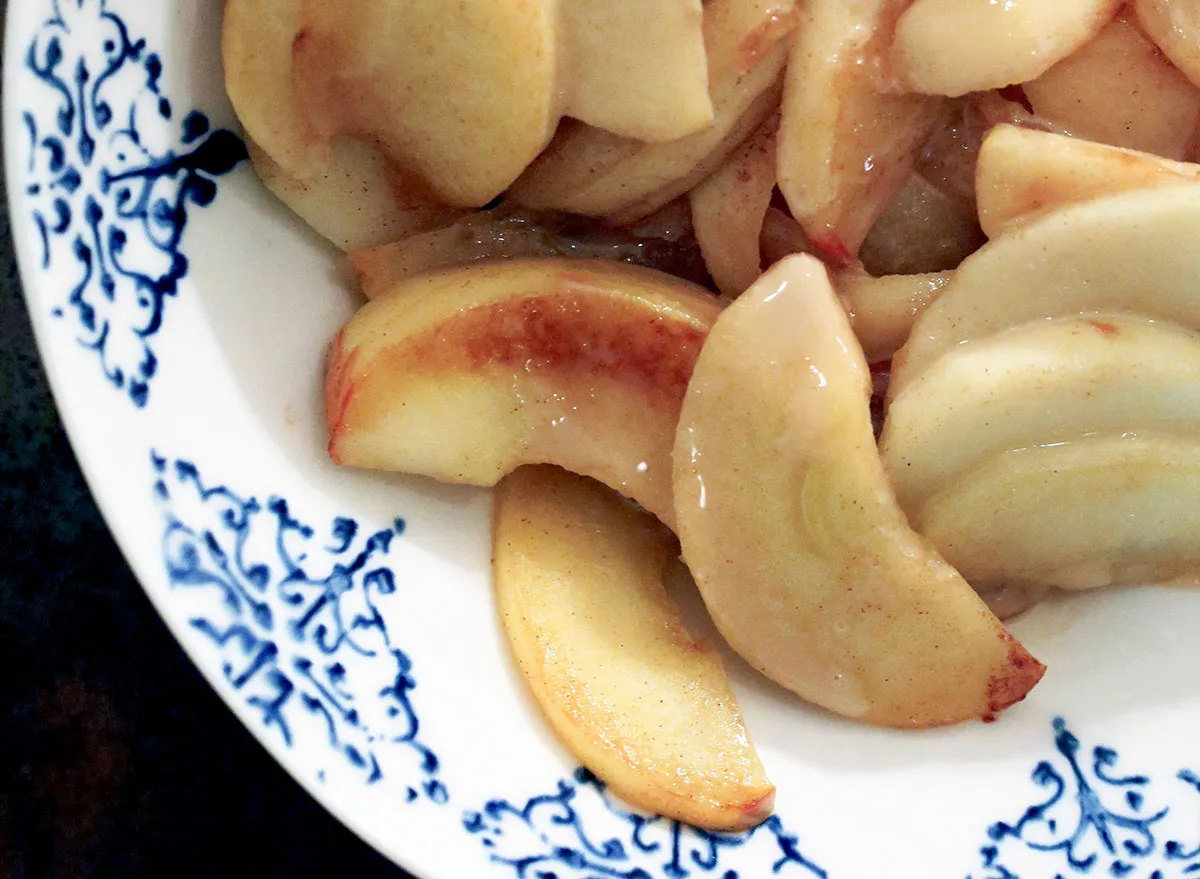 This warm, sweet, and spiced Whole30 apple dessert is so simple and light, it deserves a spot in your everyday rotation. You're basically cooking apples with cinnamon, then drizzling them with some velvety, syrupy sweet sauce. We like to think of it as a deconstructed apple pie.
Get our recipe for Warm Sautéed Apples with Caramel Drizzle.
Nothing smells quite as good as freshly baked bread—until you catch a whiff of these loaves made with cinnamon apples, fresh from the oven. They're also gluten-free, and their secret ingredients include unsweetened coconut or almond milk and applesauce. Try spreading your favorite nut butter on top for a more filling snack.
Get the recipe from Sarah Bakes Gluten Free.
Why relegate quinoa to lunch or dinner when it can take center stage in a satisfying breakfast bowl? This simple recipe melds apples, quinoa, honey, and cinnamon for a sweet AM treat.
Get the recipe from Simply Quinoa.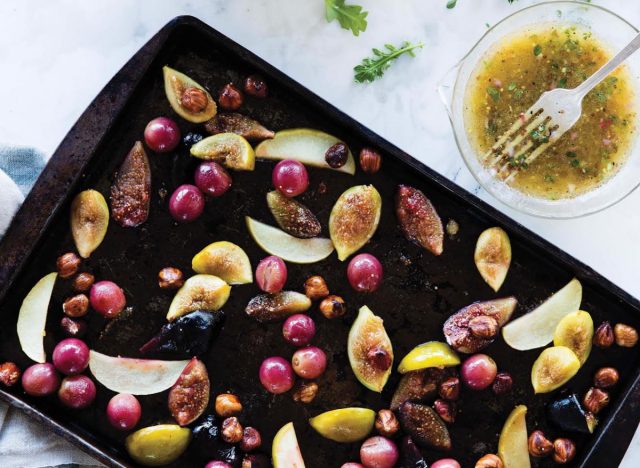 Figs, grapes, and tart apples tossed and roasted in olive oil make this autumn salad a perfect combination of your favorite fall flavors. The vinaigrette dressing is a simple mixture of mustard, olive oil, and apple cider vinegar, and you can place everything on a bed of arugula, radicchio, and romaine lettuce.
Get our recipe for Roasted Autumn Harvest Salad.6254a4d1642c605c54bf1cab17d50f1e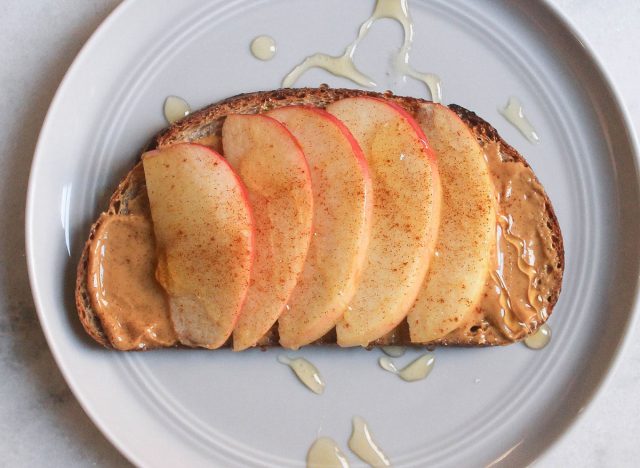 Whether it's for breakfast or a snack to enjoy mid-afternoon, a simple slice of toast with the right combination of toppings can be quite satisfying. This particular combination of apples, peanut butter, cinnamon, and honey is a quick and easy way to satiate your sweet cravings, while also keeping calories fairly low and adding in a boost of fiber, protein, and healthy fats.
Get our recipe for Peanut Butter, Cinnamon, and Apple Toast.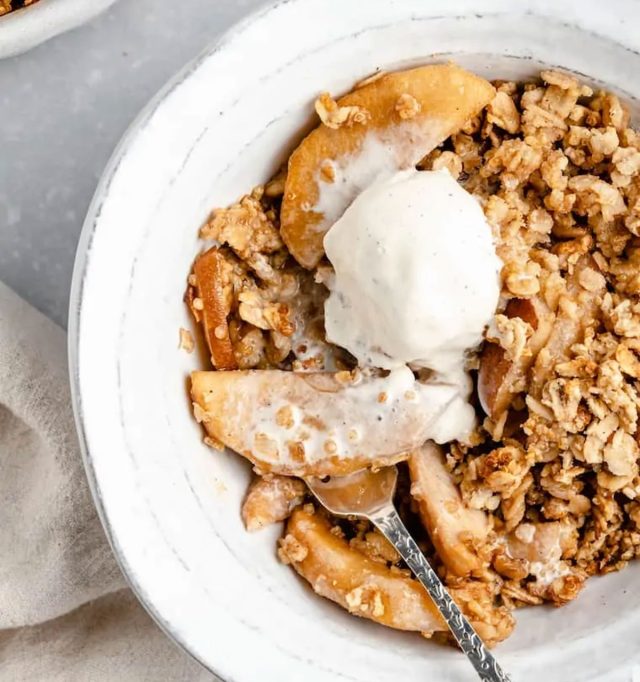 Gluten-free oats, quinoa, nutritious coconut oil, and maple syrup get a dusting of cinnamon and are swirled with bubbly, roasted apples. Feeling extra decadent? Top it with a scoop of one of these healthier ice cream pints.
Get the recipe from Simply Quinoa.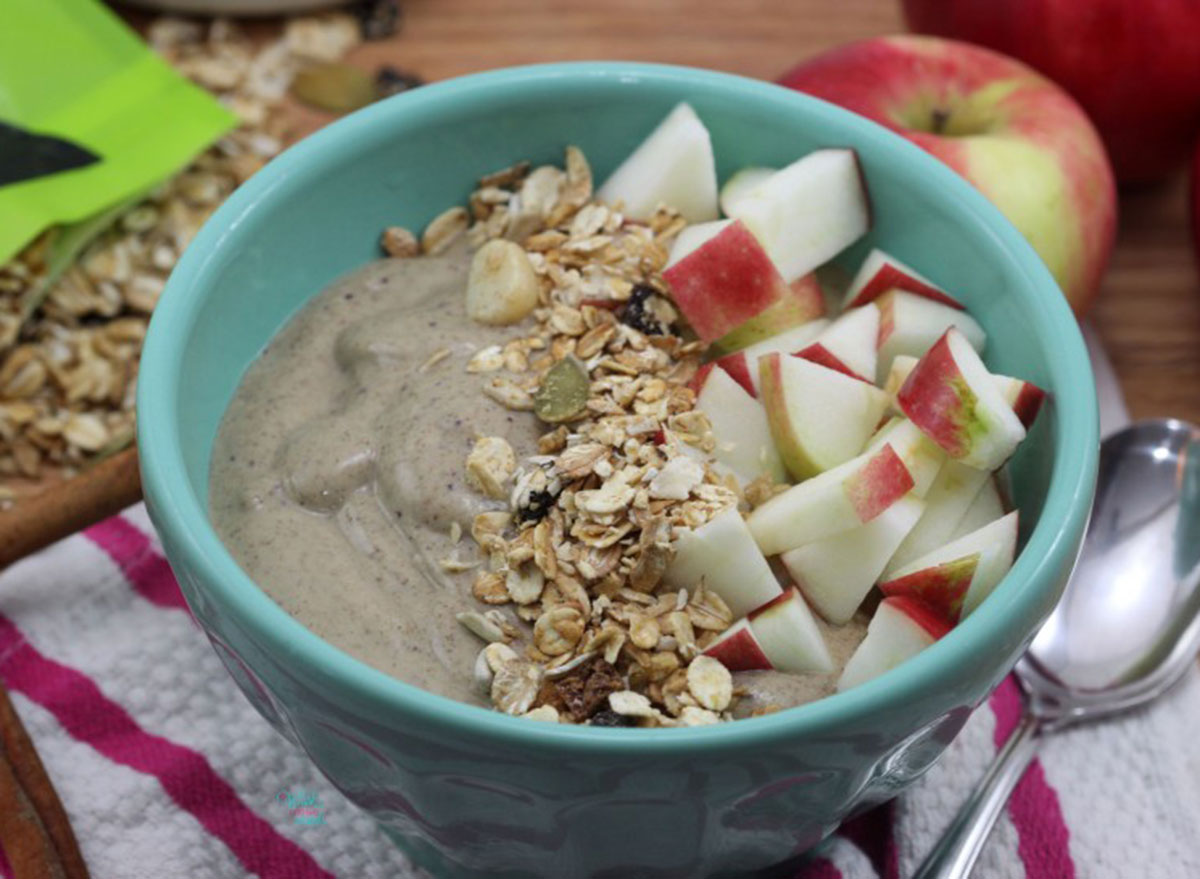 Apples, anti-inflammatory chia seeds, oats, and plant-based protein powder create a tasty, nutrient-dense breakfast worthy of any AM rotation. To bulk it up, add a tablespoon or two of nut butter for a thicker texture and an extra boost of protein.
Get the recipe from A Whisk and Two Wands.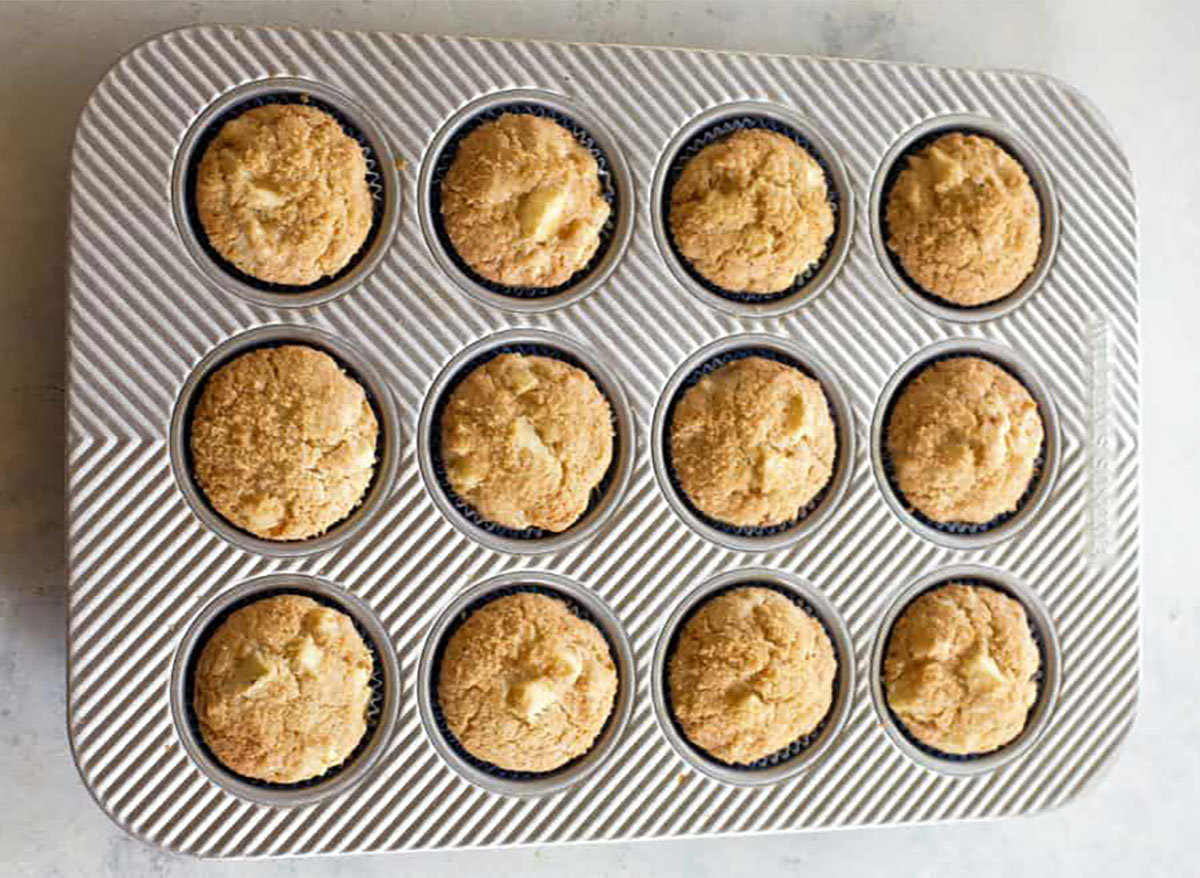 Apple muffins are the most delicious way to start your day! This recipe uses simple ingredients you probably have on hand, and it's way better than a boxed muffin mix.
Get the recipe from The Girl Who Ate Everything.
Yes, you can buy a jug of apple cider at the grocery store. But making a homemade version is super satisfying and a great way to welcome the fall season.
Get the recipe from Gimme Some Oven.