Entertainment
"The pain I am feeling is too much to bear" – Heartbroken Nigerian lady laments as her relationship ends due to incompatible genotype
A Nigerian lady identified as Eferusuoa has cried out online after her relationship ended due to an incompatible genotype.
She disclosed this in a Facebook group on Saturday, April 15, 2023.
According to her, she was finding it difficult to accept the fact that the relationship was over and she had to move on.
She wrote;
"How do you heal from a relationship that has to end due to genotype issues. Right now, the pain am feeling from this is too much to bear. How can I start accepting the fact that very soon, we won't talk often, I won't see him again. Am really pained…I sincerely need all of your advises."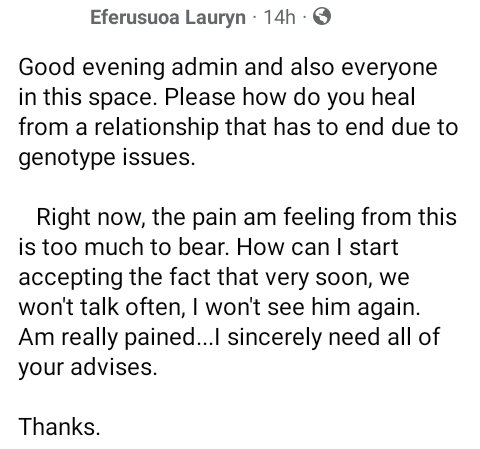 In other news, a UK-based Nigerian man opined that a woman has failed as a wife if her husband doesn't gain weight following years of marriage.
Taking to Facebook, the man identified as Austin Deko, asserted that a woman is a failure if her spouse does not get fatter after five years of marriage.
He wrote on Friday, April 14,
"You have failed as a woman if your husband didn't gain weight after 4 to 5 years he married you.🙄"