Health
The Best & Worst Granola Bars in America in 2023—Ranked!
The product recommendations in this post are recommendations by the writer and/or expert(s)
interviewed and do not contain affiliate links. Meaning: If you use these links to buy
something, we will not earn a commission.
Granola bars are the perfect food for quick and easy snacking. They easily fit in your purse or backpack, can be eaten quickly, are easy to stash in the car, and give you the energy you need to power through until your next meal. Also, granola bars are naturally higher in carbohydrates than protein bars or other snack bar options since the base is typically made of oats. While there are a variety of healthy granola bars to choose from, it can be difficult to sometimes know which ones might be best for you because, unfortunately, some granola bars are essentially candy bars disguised as a "healthy" food choice.
"Many granola bars on the market are often low in protein, low in fiber, and high in added sugars, leaving you less than satisfied," says Jamie Adams, MS, RD, LDN, owner of Mamaste Nutrition.
While our carb-fearing society may have you wondering if this makes all granola bars "bad," keep in mind that our bodies prefer carbohydrates for energy and can effectively use them to keep us energized and focused throughout the day. When choosing the best granola bar for you, you'll want to look for options that get their carbohydrates from natural sources like oats and fruit instead of added sugars. Healthy fats, protein, and fiber all increase the nutritional value of granola bars and will help you feel more energized after snacking.
To help make it easier for you to recognize a quality healthy granola bar when you see one, we rounded up and ranked 10 best and worst granola bars you can buy. So before you head to the grocery store to load up on snacks, keep reading to find out which granola bars currently on the market best suit your health and wellness needs! And for more healthy eating tips that can simplify your next trip to the grocery store, be sure to also check out The Best & Worst Cuts of Steak—Ranked!
2 BARS: 200 calories, 8 g fat (1 g saturated fat), 150 mg sodium, 28 g carbs (2 g fiber, 11 g sugar), 3 g protein
While these Pecan Crunch-flavored granola bars from Nature Valley do include some protein from pecans and oats, sugar is the second ingredient in the list. These are sweetened with sugar and brown rice syrup, totaling 11 grams of sugar. That level of added sweetness aligns these granola bars more closely with occasional sweet treat indulgences versus an actual healthy snack.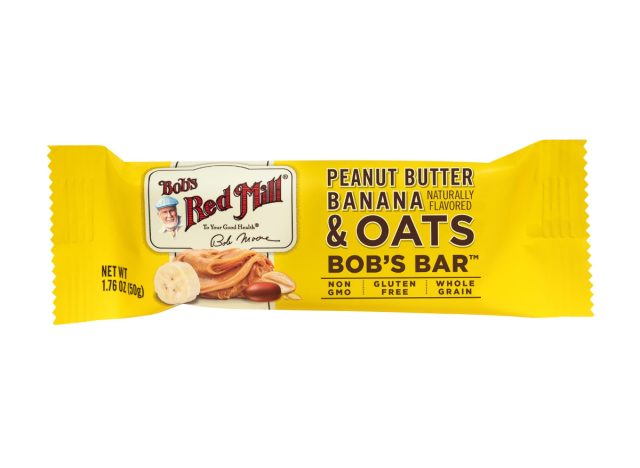 1 BAR: 210 calories, 9 g fat (1.5 g saturated fat), 100 mg sodium, 28 g carbs (3 g fiber, 10 g sugar), 7 g protein
Bob's Red Mill's Peanut Butter Banana & Oats granola bars contains 7 grams of protein, three grams of fiber, and whole ingredients like peanuts, oats, and bananas, making it a good choice when you need a nutrient-dense snack. They are also gluten-free and sweetened with tapioca syrup and honey. However, they are a little higher in calories, and it's important to remember that even natural sweeteners still count toward added sugars totals. So if opting for this granola bar, just be sure to take these factors into account to ensure your overall food and drink choices strike a good nutritional balance throughout the course of your day.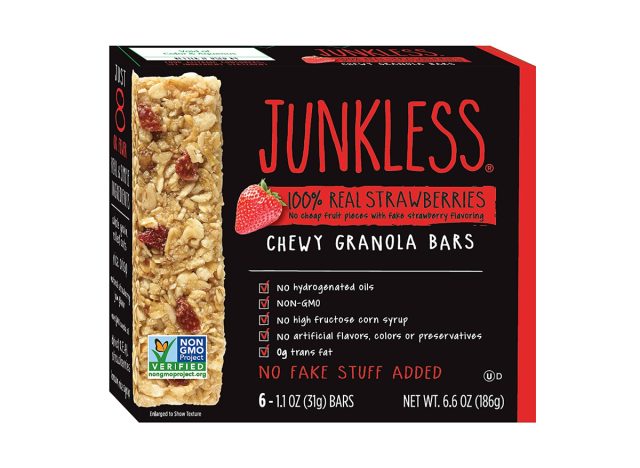 1 BAR: 130 calories, 4 g fat (0 g saturated fat), 20 mg sodium, 21 g carbs (1 g fiber, 6 g sugar), 2 g protein
With a short ingredient list, these Junkless granola bars are naturally flavored with dried strawberries. However, with only one gram of fiber and 2 grams of protein, it likely won't be enough to satisfy your appetite as a standalone snack, and you'll probably be reaching for another quickly thereafter.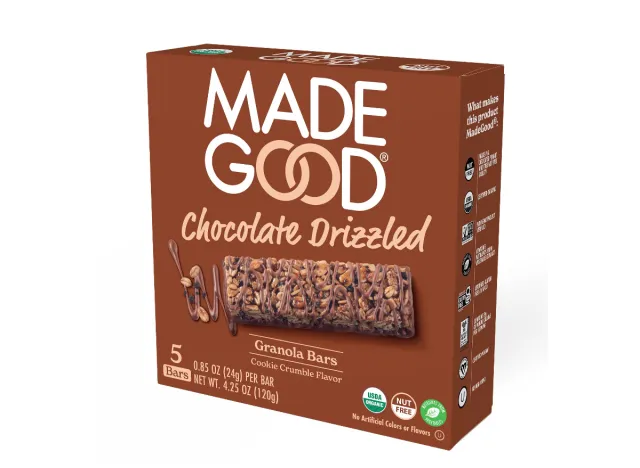 1 BAR: 110 calories, 4 g fat (1.5 g saturated fat), 30 mg sodium, 16 g carbs (1 g fiber, 7 g sugar), 2 g protein
This flavor of MadeGood granola bars is low in calories and has only 16 grams of carbohydrates. So if you're watching your carbohydrate intake, they may be a good choice. Even though they're not as high in fiber or protein as I'd like to see, they're also packed with vegetable extracts and chia seeds, which give each bar 20% of your daily value for nutrients like vitamins A, C, E, and D.6254a4d1642c605c54bf1cab17d50f1e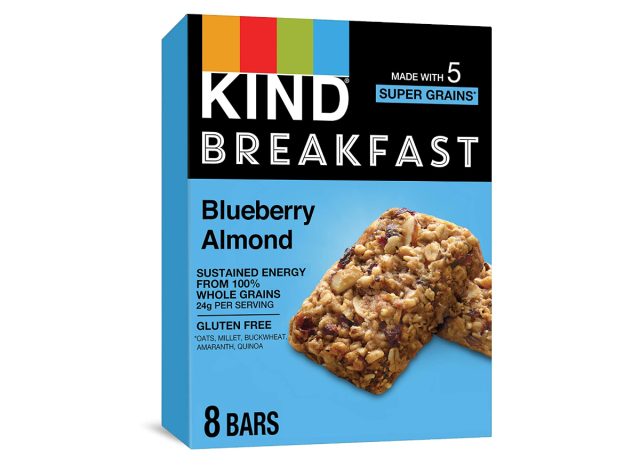 2 BARS: 220 calories, 9 g fat (0.5 g saturated fat), 20 mg sodium, 32 g carbs (5 g fiber, 10 g sugar, 7 g added sugars), 3 g protein
The 32 grams of total carbohydrates in these soft-baked, blueberry almond-flavored KIND Protein Breakfast Bars are balanced with 3 grams of fiber and 8 grams of protein. While they do have 7 grams of added sugars, they're a good source of protein and fiber, which help to slow down the digestion of sugar and keep you fuller longer.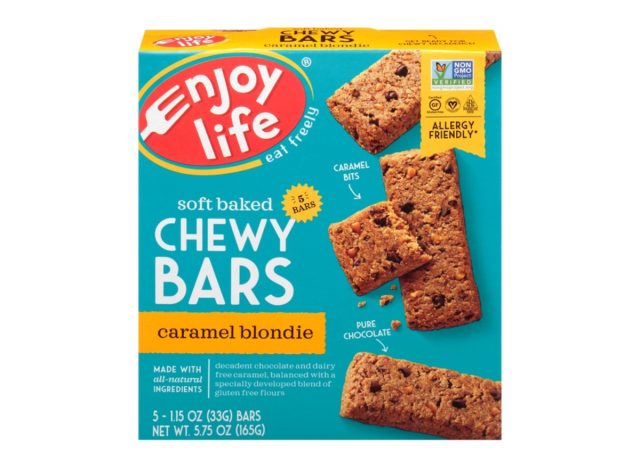 1 BAR: 160 calories, 9 g fat (2 g saturated fat), 75 mg sodium, 20 g carbs (1 g fiber, 10 g sugar, 1 g added sugar), 2 g protein
"Enjoy Life granola bars are a great option for anyone—especially those with food allergies and intolerances, as they are free of 14 common food allergens," explains Andrew Akhaphong, MS, RD, LD, a registered dietitian for Mackenthun's Fine Foods.
This bar particular caramel blondie-flavored Enjoy Life Soft Baked Chewy Bar also has only 1 gram of added sugar, as it's naturally sweetened with dates.
1 BAR: 110 calories, 3 g fat (1.5 g saturated fat), 40 mg sodium, 20 g carbs (3 g fiber, 7 g sugar), 1 g protein
With organic ingredients, low calories, and 3 grams of fiber per bar, these gluten-free Chewy Granola Bars from Annie's are an all-around good choice for a quick and healthy snack.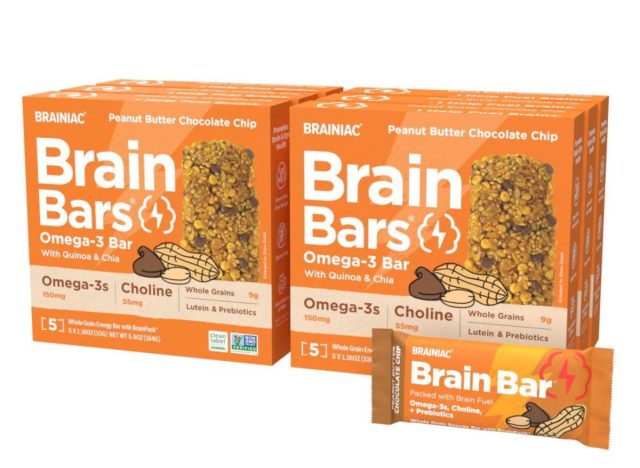 1 BAR: 120 calories, 4g fat (1.5 g saturated fat), 85 mg sodium, 23 g carbs (3 g fiber, 8 g sugar), 2 g protein
With whole grains like quinoa plus other nutritious superfoods like chia seeds, these Peanut Butter Chocolate Chip Brain Bars from Brainiac can kick your hunger to the curb while giving your brain a little nutrient boost.
"For 120 calories, you get 3 grams—11% of the daily value—of fiber, which helps keep you fuller for longer," says Amy Gorin, MS, RDN.
They're also packed with prebiotics and brain health-supporting nutrients, including lutein, choline, and ALA omega-3 fatty acids.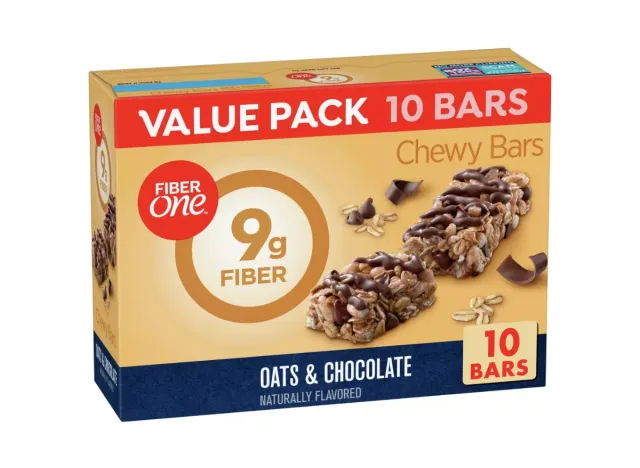 1 BAR: 140 calories, 4 g fat (1.5 g saturated fat), 95 mg sodium, 29 g carbs (9 g fiber, 9 g sugar), 2 g protein
If you have trouble getting enough fiber into your day, these granola bars from Fiber One will have you covered. With 9 grams of fiber in each bar, you're about a third of the way to your daily fiber goals. Just make sure to drink plenty of water and stick to only one bar at a time to avoid any potential unwanted side effects that could impact your stomach, like gas or bloating.
1 BAR: 200 calories, 11 g fat (1.5 g saturated fat), 110 mg sodium, 21 g carbs (3 g fiber, 7 g sugar), 7 g protein
One of the best bars on store shelves, these 88 Acres Warm 'n' Spiced Cinnamon Maple Seed & Oat Bars are made with only a few basic ingredients, including a seed blend, oats, brown rice syrup, and maple syrup. A combination of pumpkin, sunflower, and flax seeds adds healthy fats and 7 grams of protein to these bars with only 6 grams of added sugars.