Marjorie Taylor Greene Gazpacho Memes: Marjorie Taylor Greene, a Georgia representative, became a laughing stock on social media Tuesday after apparently mistaking the Gestapo (Nazi Germany's secret police) for gazpacho, a cold Spanish vegetable soup. According to reports, Republican Rep. Marjorie Taylor Greene (Ga.) intended to accuse House Speaker Nancy Pelosi (D-Calif.) of using Gestapo tactics in an interview she gave on Tuesday.
On the far-right One America News Network, Greene claimed that Nancy Pelosi's "gazpacho police" were spying on lawmakers and their staff. Blundering on social media quickly spread to the general public. Some were quick to point out that Greene's accusation was not only a gaffe but also unfounded, given her history of spewing anti-semitic remarks, conspiracy theories, and Covid-19 misinformation: However, the video interview went viral and sparked a slew of hilarious jokes and commentary. Her words were not exactly what she intended, and her critics were quick to mock her for her gaffe on social media.
A chilled soup was a better metaphor than the Nazi secret police for Pelosi's tactics. According to Greene, who spoke on the "Real America" programme of One America News Network's "One America News Network," the "Nancy Pelosi gazpacho police" are now monitoring members of Congress, monitoring our legislative work, monitoring our staff, and monitoring American citizens. The Republican Accountability Project's video snippet of the interview went viral on Wednesday.
The incident involving Capitol Police
Rep. Troy Nehls, R-Texas, complained about an incident involving Capitol Police on Tuesday, and Greene, who has a history of making Nazi comparisons and promoting conspiracy theories and misinformation, made the remark. On Nov. 20, "without my knowledge and photographed confidential legislative products," Nehls wrote on Twitter, "three intelligence officers attempted to enter my office while the House was in recess" to inquire about an item that had been photographed inside his office. A "vigilant" officer entered Nehls' office because the door had been left open after business hours, the Capitol Police Chief Tom Manger said in response to Nehls' claim that he had been "illegally spied on."
When a Member's office is unattended, "USCP officers are instructed to document that and secure the office to ensure that nobody can wander in and steal or do anything else nefarious," Manger said, per NBC News. There was no need for an investigation or further action after his officers "followed up with the Congressman's staff." On Tuesday's show, Greene claimed that the Capitol Police had been doing Pelosi's bidding. As political pawns, Nancy Pelosi has sent them to our offices." If they have been in our offices at night, how can we tell? According to Greene, "We don't know, but it's possible." "They're going after us all," he said.
When she's not in the House of Representatives, Marjorie Taylor Greene, better known by her initials MTG, is an American businesswoman, political activist, and conspiracy-theorist. As a Republican and a fervent supporter of former President Donald Trump, she was elected to Congress in 2020 after Republican incumbent Tom Graves stepped down. White genocide, QAnon, Pizzagate, as well as other disproven conspiracy theories, such as false flag mass shootings, the Clinton body count, and multiple relating to 9/11, have all been promoted by Greene.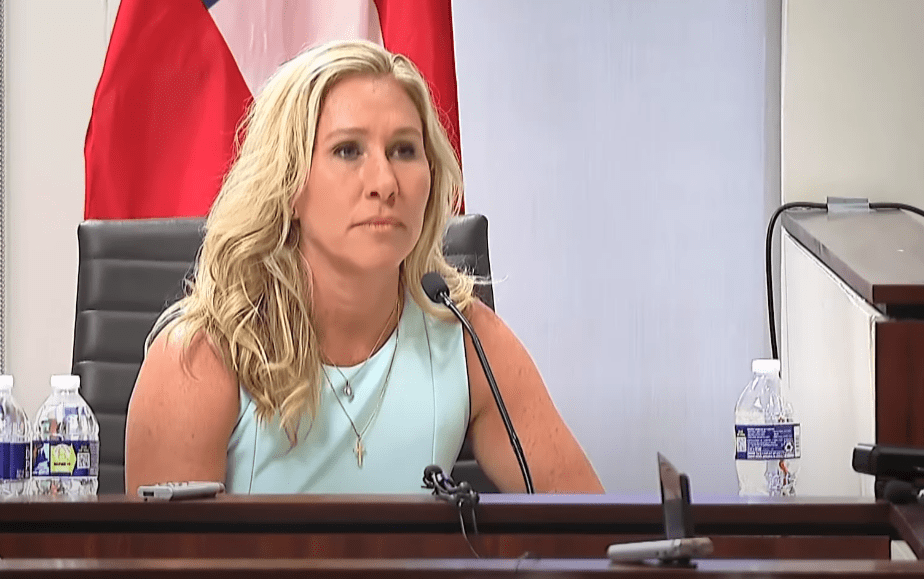 Prior to her run for Congress, she was a proponent of the assassination of prominent Democrats. On the House floor, she likened the Democrats to Nazis. and compared COVID-19 safety measures to the Holocaust persecution of Jews. That last comparison was an error, and she was sorry. Greene's personal Twitter account was shut down permanently in January 2022 for spreading false information about the COVID-19 vaccine.
As a child and a Student
Greene Taylor was born on May 27, 1974, in Milledgeville, Georgia. The University of Georgia awarded her a Bachelor of Business Administration (BBA) degree in 1996. Speaking on gun control and school shootings on the House floor on February 4, 2021, Greene alluded to being affected by the September 1990 hostage-taking incident at her high school in which 53 students were held hostage for more than five hours by an armed student.
2022 is the next general election, with primaries being held
On June 4, 2019, Greene began her campaign in Georgia's 6th congressional district, where she lives, after initially announcing her intention to run in the 7th district. As she stated, "If we look at our country as our household, we're going under foreclosure because we're overspending." She pledged to bring the federal budget into balance and to restrain Congress from using its constitutional power to spend money into existence. Former U.S. Representative Karen Handel, who is expected to challenge Greene in the primary, has lost seven races in her political career and has supported large omnibus spending bills. When she wins a seat, she resigns from it so that she can run for another position. To describe her as "professional campaigner" would be an understatement, but she loses.
Joe Biden and Donald Trump
On January 4, 2021, Greene called for the decertification of the results of the presidential election in Georgia. She is a strong supporter of former President Trump. A few days after Trump's second impeachment, on January 21, she introduced an article of impeachment against Vice President Joe Biden; no one supported it. Greene rejected a conspiracy theory that Trump would be reinstated as president in August 2021 in an interview with Steve Bannon on July 7, 2021. A special purpose acquisition company that had just merged with Trump Media & Technology Group to fund Trump's planned social media app, Truth Social, purchased shares of Digital World Acquisition Corp. from Greene on October 22, 2021.
As it is Commonly Understood in Pop Culture
Cecily Strong played Greene in a caricature for the cold open of SNL's 46th season, which debunked conspiracy theories and discussed how she "told [her] supporters that they should physically murder Nancy Pelosi." The episode aired on January 30, 2021. Greene's character appeared again on Weekend Update in February in a sketch where she misspelt "science," compared herself to Pennywise the Dancing Clown, pulled a handgun on co-anchor Colin Jost, and claimed to be possessed by a demon after she opposed the Equality Act.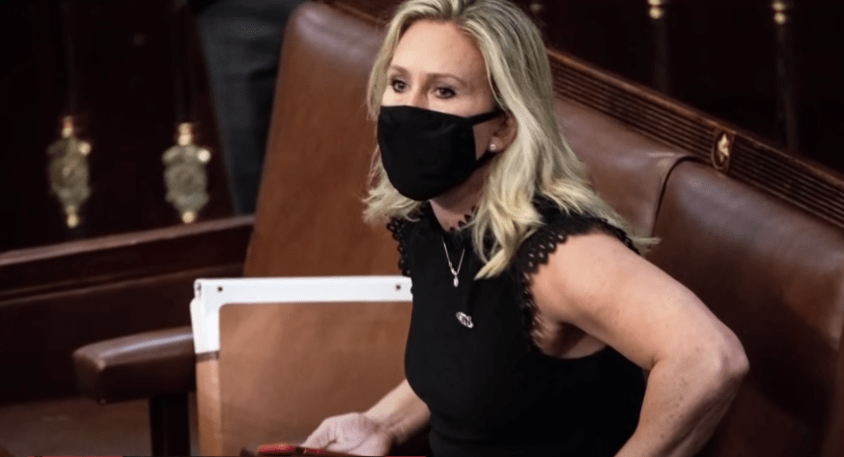 Greene's apology video was digitally enhanced with a toothbrush mustache on June 15, 2021, by talk show host Jimmy Kimmel, who called her "human excrement", "Klan Mom," and "the sorriest excuse for a congresswoman we've ever had," after she visited the Holocaust Museum. She was dubbed "your crazy aunt's even crazier friend" by Daily Show host Trevor Noah for her "notorious for saying absolutely anything with zero shame" remarks. She joked that "wait until she hears about slavery!" after Greene's apology was called "empty as her head" by The View co-host Joy Behar. When Greene mentioned "gazpacho police" guarding the Capitol on February 9, 2022, a wave of jokes ensued. Apparently, she mistook the frigid Spanish soup for the Gestapo.
Personal issues
Greene married Perry Greene in 1995, while she was still in college, and they have two children together. Three children are in their family. In 2011, Greene was re-baptized into the Alpharetta, Georgia-based evangelical megachurch network North Point Community Church in a baptism broadcast live on the internet. On numerous occasions, Greene has expressed her desire to bring "my faith and my family values" to the White House.
By claiming two homestead tax exemptions on her properties, an older home and one she purchased in the 14th congressional district when she ran for office in May 2021, Greene violated Georgia law, according to ABC Affiliate WSB-TV in Atlanta. "Paperwork, which is being taken care of," said Greene in response.
Related