Entertainment
Man reportedly buys N125m duplex for his 19-year-old sidechick as a birthday present
A Twitter user recounted how one of his clients purchased a 125 million naira duplex for his 19-year-old girlfriend.
The Twitter user, identified as @justkingss, said he was shocked to discover that the client, who was a married man, didn't buy the property for himself or his wife, but for his teenage girlfriend, who hails from Benin.
The said man gifted the lady the N125m Duplex in Lekki as a birthday present.
Narrating the story, @justkingss wrote,
"I once helped a client secured a N125m Duplex in Lekki. The funny part was that he actually bought it not for himself nor his wife but for his 19yr old Benin (Edo State) girlfriend. He bought it as a birthday gift to her because of p*#sy".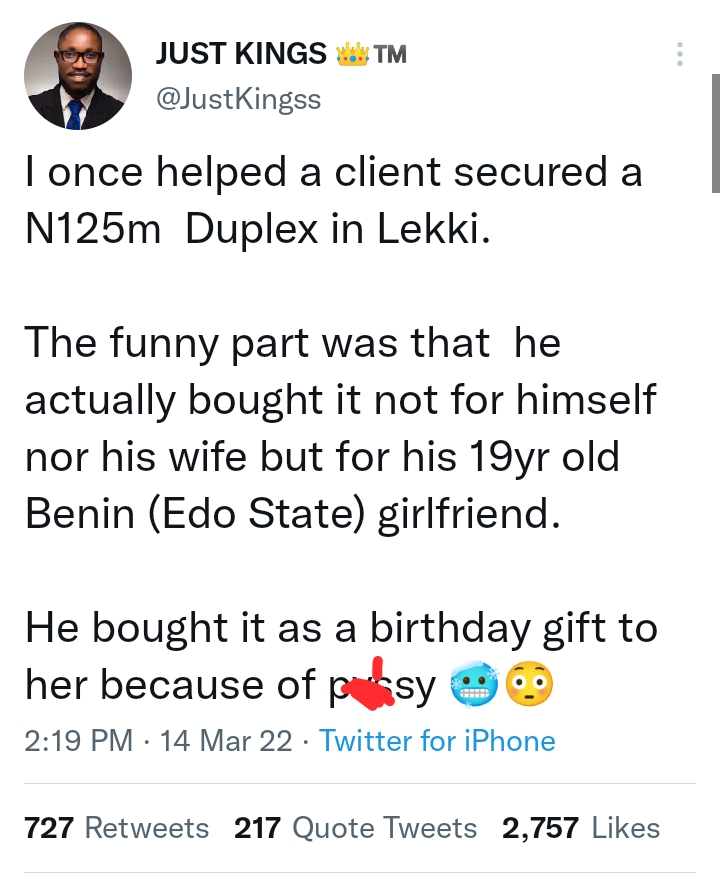 In related news, a UK-Based Nigerian man has shared how he bought his girlfriend a brand new car, immediately after she was involved in an accident and her previous car got damaged.
Identified on Twitter as @u4uzoma, he revealed his girlfriend is in perfect health condition, as nothing happened to her, but her car was damaged and written off, so he had to buy another.
"I had to cut my Christmas holiday short because my girlfriend was involved in an accident in london, nothing happened to her but her car was damaged and written off. Today I took her to a car dealer to buy her a new one, making a choice was difficult, finally she chose this." He tweeted.
RECOMMENDED ARTICLES